News

Lobbies Open to Public
Carroll Electric will reopen its lobbies at all office locations to the public beginning July 12, 2021.
Because the health and safety of our members and employees remain a high priority, we are reopening lobbies carefully while taking best safety practices into consideration.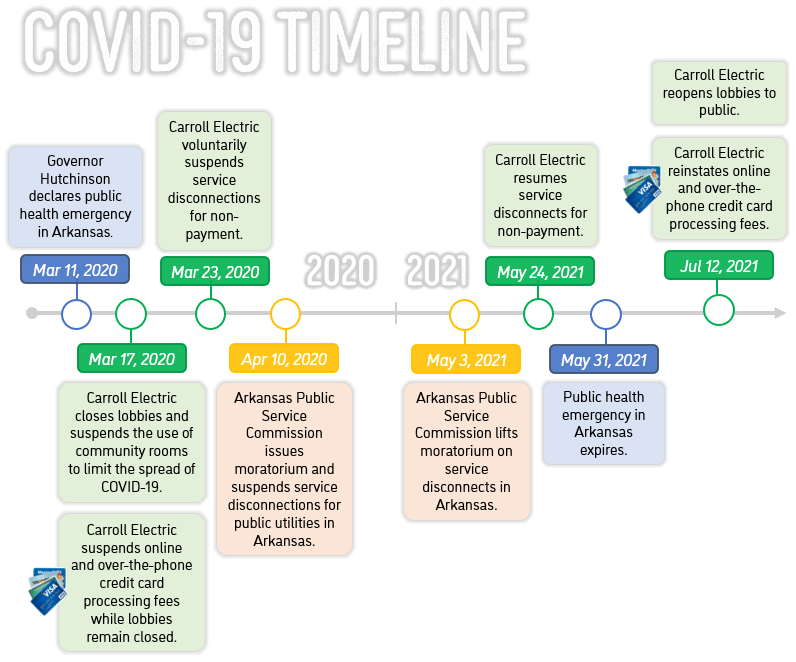 What to Expect When Lobbies Reopen

As always, customer service is a priority of Carroll Electric and we are here to effectively serve our members.
Here is some information you may find helpful:
Drive-thru and curbside services will still be available to members.
Disposable masks will be available to members upon request.
Customers applying for electric service wearing a mask may be asked to lower it for a brief period of time for identification purposes only.
The Cooperative will follow best practices to ensure lobbies remain clean, and hand sanitizer will be readily available.
With lobbies open, processing fees for over-the-phone and online credit card payments will be reinstated.
A free electronic alternative to paying by credit card is e-Draft (click here for details).
Community rooms remain closed at this time.
As a reminder, our office hours are Monday thru Friday from 8:00 a.m. to 4:30 p.m.
Additionally, customer service can be reached by phone at 1-800-432-9720.
Members can also access their account information through the Carroll Electric mobile app or through myAccount.